Say, Allen. (1999). Tea with Milk. Boston: Walter Lorraine Books.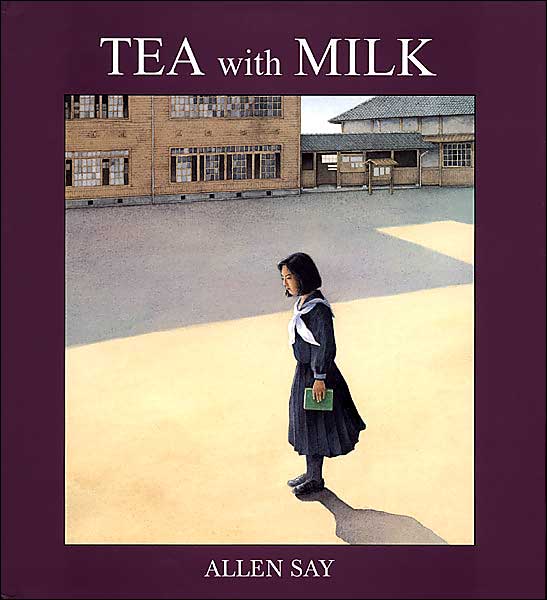 In this sweet story, Allen Say tells the true story of how his parents met. His mother, Masako, was known as May in the state
s when she was a child, where she learned English and American habits while she lived in San Francisco, such as taking milk and sugar with her tea. But when May's parents grew homesick and moved home when she graduated from high school, she moved to Japan with them. Here, she was once again a foreigner who had to go to school all over again to learn Japanese and the expected skills and manners for Japanese young ladies. She finally decides to move to the city and get a job, and the only job she can get is to work the elevators at a store. But when a visitor who only speaks English needs help, she jumped in, just for a chance to speak English. So she is given a new job, speaking English with any guest who needed her to. Allen Say's father approached her in an effort to have someone to speak English with, as he had gone to an English school. They discover they have much in common and when he is transferred to Yokohama, they decide to get married and go together.
The illustrations in Tea with Milk steal the show. The very first image captures so much in the book with such a deceptively simple image: little May, in her little American-style dress, stands in front of a door with an American flag on it, with half of a parent's face visible through the door window that has the curtains slightly pulled back in a suspicious manner. The color is so washed out, it almost looks like a black and white photograph, with stark shadows. The second image shows a teenage May looking uncomfortable and sullen in her kimono. The background has changed to a traditional Japanese style room with paper windows, which are also referenced in the text. All the colors are homogenous. Most of the illustrations use soft, muted colors, until May decides to get a job in the city. "First thing in the morning, Masako put on the brightest dress she had brought from California and left the house." She wears an American-style red dress that leaps off the page at this critical turning point in the story.
Yet the words are brilliant as well. There is repetition that illustrates what being in America and being in Japan was like for May. On the first page, we read, "Her parents called her Ma-chan, which was short for Masako, and spoke to her in Japanese. Everyone else called her May and talked with her in English." But just a page later, we read, "No one called her May, and Masako sounded like someone else's name." The author refers to her as Masako through most of the story, but subtly begins referring to her as May when she tells Joseph she'd like to be called May.
As May struggles to fit in living in Japan, she has a heavy heart. The readers are better able to grasp the disorientation she felt through the use of these concrete examples, along with references to food differences such as, "There was no more pancakes or omelets, fried chicken, or spaghetti" and even architectural distinctions such as, "Her new home was drafty, with windows made of paper." Through these details, Say allows readers unfamiliar with a move, especially a move to Japan, to experience it through May's reactions.
As our textbook says, "immigrant stories illuminate how Asian Americans have had to adjust to a new culture" (162). The theme of immigration is an important theme in Asian Pacific literature, as "These stories tell of Asians who have left their home countries in search of a new home" (164). In particular, Tea with Milk focuses on the experience of the 1.5 Generation, "those who immigrated to the U.S. with their parents" (171) In a unique twist in this story, May ends up experiencing culture shock twice: once in the U.S. and again in Japan, where her acquired American values did not align well with the values of Japan (171). If she were fictional, I'd say the author purposefully avoided the Asian stereotype of the passive, serene, obedient girl by having May going out and getting a job, rather than docilely obeying. The fact that May was a real person who truly made these choices—it was not the artistic choice of the author--only makes her example as a strong Asian woman even more positive.
In the end, we learn that the voice of the narrator is the son of May and Joseph, who grew up drinking tea with milk, which is a symbol for American and English habits, lifestyle and even values. We learn that Allen Say grew up with two parents who had many behaviors that reflected a culture outside of Japan, such as speaking English to each other and calling each other by their English names. They adopted Japan as their country, but never forgot their past. As he writes, "Sometimes my mother wore a kimono, but she never got used to sitting on the floor for very long."
The story is a sweet love story of a person trying to figure out where she fits in and finally finding someone else who is split between cultures as well. Together, they are able to make a home that works for them both—and for their son.
"S
ay's masterfully executed watercolors tell as much of this story about a young woman's challenging transition from America to Japan as his eloquent, economical prose. …With his characteristic subtlety, Say sets off his cultural metaphor from the very start, contrasting the green tea Masako has for breakfast in her home, with the "tea with milk and sugar" she drinks at her friends' houses in America. Later, when she meets a young Japanese businessman who also prefers tea with milk and sugar to green tea, readers will know that she's met her match. … Through choice words and scrupulously choreographed paintings, Say's story communicates both the heart's yearning for individuality and freedom and how love and friendship can bridge cultural chasms. Ages 4-8."-
Publishers Weekly,
March 8, 1999.
"
Gr. 4-8. On the title page of Say's new picture book, there is a small frame from his Caldecott-winning Grandfather's Journey (1993), a picture of his mother, Masako, as a Japanese American child in California. Say tells her immigrant story: how, when she finished high school in California, her restless, homesick father took the family back to live in his village in Japan. Masako becomes a foreigner in her parents' country, longing for home in San Francisco. … Say's watercolors are quieter in line and color this time, and the text is much longer. Together, they tell an elemental story that will appeal to everyone who feels a stranger at home... Like many foreigners everywhere, she discovers her home in the city, where she finds work, opportunity, and a husband from an even more diverse background than her own. They speak English ("at last, a real conversation"); they drink their tea with milk and sugar; and when their son, Allen, is born, they speak English to each other and Japanese to him. Both an "ugly duckling" romance and a universal story of leaving home, this is a picture book that will have intense appeal for older reader."
Booklist
, March 15, 1999.
"K-Gr 6-Continuing the story he started in Grandfather's Journey (Houghton, 1993), Say explores familiar themes of cultural connection and disconnection. …Say's many fans will be thrilled to have another episode in his family saga, which he relates with customary grace and elegance. The pages are filled with detailed drawings featuring Japanese architecture and clothing, and because of the artist's mastery at drawing figures, the people come to life as authentic and sympathetic characters. This is a thoughtful and poignant book that will appeal to a wide range of readers, particularly our nation's many immigrants who grapple with some of the same challenges as May and Joseph, including feeling at home in a place that is not their own.—School Library Journal, May 1, 1999.
5. CONNECTIONS
Read another book by Allen Say such as

Grandfather's Journey

, which is the first story in this family saga that deals with traveling to the United States and loving both the new home and the old, always missing the one when living at the other.

Read informational books about Japanese culture and look for Japanese cultural markers in

Tea with Milk.

Try to learn some of the skills May has to master as a young Japanese lady, such as flower arranging and calligraphy.

Watch a tea ceremony online to observe th

e formality and precise skills used.

Journal about a time you were new to a place, even if it was just the first day at a new school like high school.

But if you have moved locations, journal about what that felt like, and then imagine no one around you speaking your language or dressing like you or eating the foods you are used to.

Write about what that might be like, if you have never experienced a cross-cultural move.

Read other books about immigration and living in a new country, such as:
The Keeping Quilt

by Patricia Polacco (Russian, Jewish)

Hannah is my Name: A Young Immigrant's Story, by Belle Yang (Taiwanese)
The Name Jar by Yangsook Choi (Korean)
Dreaming of America: An Ellis Island Story by Eve Bunting and Ben Stahl (Ireland)

Coming to America: The Story of Immigration

by Betsy Maestro (describes many waves of immigrants and settlers)
The illustration on the first page of the book took my breath away. It's just so poignant and perfect. I was hooked immediately. Also, I'm a romantic, so I loved this story. I loved the big reveal at the end that he was talking about his parents and I love that this is a true story. It's interesting to me that the majority of this story is about a young adult woman, not a child, yet it works for children. I noticed that the reviewers gave it a very wide age-range for reading. I agree that this one works well with older children and even teenagers.
Bunting, Eve and Ben Stahl. (2000).
Dreaming of America: An Ellis Island Story.
Mahwah, NJ: Troll Communications L.L.C.
Choi, Yangsook. (2003). The Name Jar. St. Louis, MO: Turtleback books.
Polacco, Patricia. (1988). The Keeping Quilt. New York: Simon and Schuster Children's Publishing.
Say, Allen. (1993). Grandfather's Journey. Boston, MA: Houghton Mifflin Harcourt Publishing Company.
Smolen, Lynn Atkinson and Ruth A. Oswald, ed. (2011). Multicultural Literature and Response: Affirming Diverse Voices. Santa Barbara, CA: Libraries Unlimited.
Vardell, Sylvia. (2008). "Overview" Culture 5 Pacific Asian American Lit Texas Woman's University. Blackboard class LS 5653, Multicultural Literature for Children and Young Adults. Web. Accessed November 5, 2013.
Yang, Belle. (2007).
Hannah is my Name: A Young Immigrant's Story.
Somerville, MA: Candlewick Press.