Engle, Margarita. 2010. The Firefly Letters. Harrisonburg, VA: R.R. Donnelley & Sons Company.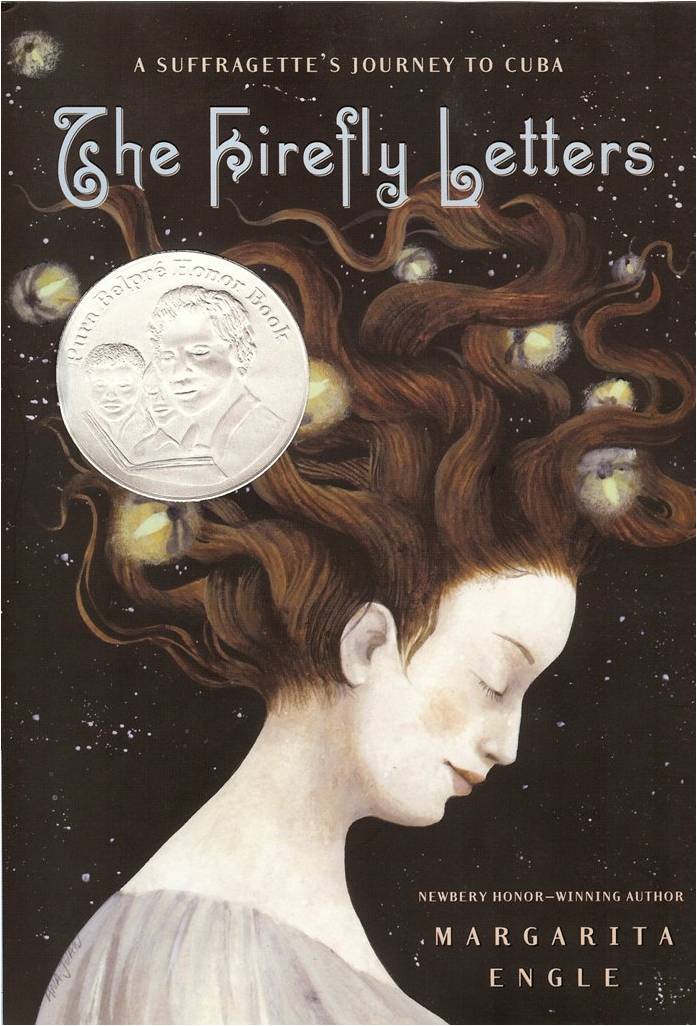 This short novel in verse tells the story of a 50 year old Swedish suffragette and novelist named Fredrika Bremer, who comes to Cuba in 1851, looking for a new Eden. Instead, she is provided a pregnant and married enslaved girl, Cecelia, to be her translator, one who misses the Congo and her mother even though she had been sold by her own father. Cecilia accompanies Fredrika on trips all over the area. The 12 year old fictional daughter of the sugar baron host, Elena, finds Fredrika unsettling, but becomes more and more influenced by Fredrika over the course of the story as Fredrika reveals the systemic injustice in Cuba. In the end, Elena makes a decision and a sacrifice to help someone she previously would not have helped. Based on true events, it's a story about slavery, women's rights, and the extreme gulf between rich and poor in Cuba in the 1800's.
This story is told in first person point of view from multiple characters' perspectives, which effectively shows each person's experiences and emotions while moving the story forward each time a character makes a decision. The chapter titles tell the reader who will be speaking. Fredrika makes an allusion to Eden early on when she says, "I will see how people live/on this island of winter sun/that makes me dream/of discovering Eden" (8), but realizes by the end, "There was a time when I imagined/that I would be happy/living in any land/blessed with winter sun,/but now I know/that even though I still think of this island/as one of the outer courts of Paradise--/as Eden of natural beauty--/I could not bear to stay here/in the presence of slavery's/dreadful sadness" (116). Cuba was not what she hoped it would be, but this book still manages to celebrate many aspects of the country.
The language of the poetry is simple and yet evokes clear imagery and emotions. The use of personification, such as, "The mist was silent/but the water sang softly,/telling its own flowing story," (15) and similes, "Somehow I must show readers/the bright flowers and glowing insects/that make Cuba's night/feel like morning" make reading the story easy and beautiful.
Engle cleverly contrasts a gorgeous image of freedom:"The beach is so lovely/that I feel like a flying fish,/as if I am soaring/up into the starlit sky," (41) with the horrifying realization that a slave ship has just arrived, bearing crying children. At every step, Engle uses all the tools at her disposal to paint the truth about the horrors of slavery, even while writing so beautifully it can squeeze your heart. The painful truth goes down smoothly in her hands. She uses Spanish words for historical Cuban terms very rarely (volanta carriage on page 23 and niῆa bonita seat on page 118), but consistently uses the word cocuyos for fireflies throughout the story, explaining it the first time Cecilia uses the word. Even the addition of this one native word used repeatedly adds a depth of authenticity that makes the story more credible.
Cuba comes alive in parts of the story, as the author uses the voice of Fredrika to help us see and smell the island from the point of view as an observant newcomer: "All the bowls, spoons, and cups/are made from gourds, the hard, dry fruit/of a calabash tree that grows near the house/along with every other variety of fruit tree/known in the tropics:/mango, sapote, mamey, tamarind,/and a half a dozen different types of bananas,/some tiny and some huge…" (83) and "It is a garden/of delightful scents/and enchanted flavors…/a garden that somehow/helps me revive/the old hope of rediscovering/lost fragments/of Eden" (83). The beauty is made clear, even in contrast to the terrible nature of slavery and the treatment of girls. We get a short image of a native Cuban who is not a sugar baron: "The woman is up early/blowing a conch-shell trumpet/to call her husband and sons/in from the fields/for a simple breakfast/of fish, corn, and yams" (82). The specific details really give authenticity to the story. It also helps to know that the author based the story on the actual journals of Fredrika Bremer and the author provides a note in the back, specifying which parts are fictional and which came from the journals and other historical facts. Authenticity is critical for historical fiction and this book delivers, which is not surprising given that Engle has written a great deal about Cuba, to include an entire book of poetry about Cuba called
The Surrender Tree: Poems of Cuba's Struggle for Freedom
, as well as a book in verse called The Poet Slave of Cuba: A Biography of Juan Francisco Manzano. (Smolen and Oswald, 207).
Elena grows the most in the story. In the beginning, she refers to Cecilia as "just a slave" (4). Socially, in the beginning, she says, "I find the Swedish lady's freedom to wander/all over the island/without a chaperone/so disturbing/that I can hardly bear it" (9). She is just as unhappy as Cecilia, as she says, "The thought of marriage/to some old frowning stranger/makes me feel just as helpless/as a slave," (10) and indeed, women and girls were essentially slaves in that era and place. "Spanish sea captain and Arab merchants/are not the only men/who think of girls/as livestock" (2). They were the property of their fathers and husbands and Engle very clearly shows that even the life of the white privileged was not easy. "Elena and her mother move like shadows/lost in their private world/ of silk and lace" (11) and even Fredrika herself says, "I knew I could not survive/as a half-starved girl/for the rest of my life./Roaming the world/has been my escape" (22). The words are poignant and heart-breaking.
Mid-way through the story, Elena says, "I try to see a traveling fairy/ on my own shoulder…/but all I see is Fredrika/at my side,/helping me to imagine/invisible wings" (74), with wings suggesting freedom and independence. By the end, Fredrika says of Elena, "She has learned/how to dream/of a magical world/without masters/and slaves" (125). Elena works hard to give a priceless gift to Cecilia, who says, in one of the most touching moments in the book, "I assumed she was in love/but as it turns out/her love was meant for my child" (142). Without Fredrika, Elena would never have grown to see Cecilia as a full human being. The influence of Fredrika continues past her visit, as she writes about her observations in Cuba. "Do they ever wonder/about the slaves/who chop the cane/that sweetens their tea?/ How will they know/unless someone travels/and writes/about the tales/told by brave children/like Elena/and courageous mothers/like Cecilia?" (143). It continues today in the form of this book.
In the early chapters, readers learn that in Cuba, moonlight was considered dangerous. Women covered their heads. But in the deft hands of Ms. Engle, moonlight becomes a symbol of education and awareness. Fredrika has an uncovered head from the very beginning. For those in power, yes, the education and awareness of the people is a danger—to their comfortable positions, with their slaves, with their money, with their power. But it's not a danger to those on the streets. By the end, Elena concludes the entire novel by saying, "I no longer cover my head./I think of the moonlight/as friendly/and safe" (144). Becoming self-aware and transcending societal expectations is an important theme in this book.
The fireflies that are referenced repeatedly in the story are another symbol of this theme and the theme of being freed, both literally and figuratively. Children continue to tie up these little creatures or put them in jars until they starve and Fredrika continues to pay the children to set them free. Fredrika and Cecilia were real people who really were able to see past the pressures of society at that era and think for themselves. They are an inspiration for women and girls and slaves everywhere that things can change, even if just one person at a time.
"Both Elena and Cecilia are inspired by their guest's independence, Elena to wonder if she can void eventual marriage and Cecilia to dream of freedom for her unborn child. Using elegant free verse and alternating among each character's point of view, Engle offers powerful glimpses into Cuban life at that time." – School Library Journal, Feb. 1, 2010.
"Engle spins her latest historical novel-in-verse from the actual diaries of a 19th-century suffragette, Fredrika Bremer, who jettisoned her privileged existence in Sweden to travel and take notes on the plight of the poor. …As in her other novels, Engle (The Surrender Tree) writes in free verse, alternating among the characters' perspectives. Cecilia's story is the most poignant: Her father gave her to kidnappers in exchange for a stolen cow, and her unborn child also faces becoming a slave. But it's Elena who gives the plot momentum with a bold and risky choice that signals her own transformation. This slim, elegant volume opens the door to discussions of slavery, women's rights, and the economic disparity between rich and poor. Ages 10-and up." -- Publishers Weekly, March 15, 2010.
Winner of the 2011 Pura Belpré Award
A Newbery Honor Book
An ALA Notable Book
An ALA Best Book for Young Adult
5. CONNECTIONS
As Dr. Vardell says, poetry is meant to be read.

Have students take turns reading a chapter to each other.

Have them write about their own city, home, or country.

Read other Margarita Engle books and compare and contrast them.

Research Cuba today and compare how it has changed since the 1850's.

Read some of the original journal entries of Fredrika Bremer.

Decide for yourselves how true to life the author was in her representation.

What would you have done differently, if anything?
6. PERSONAL REACTIONS
This was an amazingly fast read. The chapters flowed quickly and I learned a tremendous amount while enjoying a compelling story. I will definitely look for Ms. Engle's other works.
Works Referenced:
Engle, Margarita. 2008. The Surrender Tree: Poems of Cuba's Struggle for Freedom. New York: Henry Holt and Company.
---------. 2006. The Poet Slave of Cuba: A Biography of Juan Francisco Manzano. New York: Henry Holt and Company.
Smolen, Lynn Atkinson and Ruth A. Oswald, ed. 2011. Multicultural Literature and Response: Affirming Diverse Voices. Santa Barbara, CA: Libraries Unlimited.
Vardell, Sylvia. 2010. "Overview"
Culture 3 Hispanic Lit
. Texas Woman's University. Blackboard class LS 5653, Multicultural Literature for Children and Young Adults. Web. Accessed September 27, 2013.