So, I'm participating in #PitchWars. Many thanks to my friend Carol Pavliska over at
Sardines in a Can
for encouraging me to join in, over on Twitter. :)
#PitchWars is a contest where a few writers are chosen by writing mentors to become a team and prepare pitches for agents. There are a lot of talented people participating and I'm just glad to get to throw my hat into the ring. I'm a hopeful and there's a writing meme, My Next Big Thing, going around, so I'm answering it!
Here we go...
1.
What is the title of your book?
THE WORST VILLAIN EVER
2. Where did the idea come from for the book?
I was working on a YA dystopian and literally, sitting at my computer, out of no where, I had this image of a young, gangly boy getting a letter of acceptance into the Academy of Villainy and Wrongdoing. I knew he was in a family of villains, but that he suffered from a terrible case of being too nice-- and he has to try to toughen up to make it through even the try-outs. I wrote out the basic idea on a notecard and started typing. I wrote 12,000 words that first day and kept on going the next.
3. What genre does your book fall under?
Middle grade, light science fiction, with a touch of fantasy
(I wish I could say, "superhero genre" which tends to straddle science fiction and fantasy!)
4. What actors would you choose to play your characters in a movie rendition?
George
, my sweet and sincere wanna-be-villain...well, I am not sure. He would have to be a bit gawky, but adorable.These photos are from the
Mockingjay Site:
Ethan Jamieson looks a little too young in this picture, but the hair and the smile and earnestness is all just right.
(Now imagine that face and curly hair atop of a black leotard Villain Outfit, with red flames running up the legs...: :) )
Alexander
, George's highly accomplished evil big brother, could be played by this guy:
From
this website
Maybe with a trim in the back of his hair. Alex is, as I say in the manuscript, slick enough to skate on.
Sam,
George's secret best friend at the academy, needs to be a suave-looking kid, with a skater's cut that slides over one eye.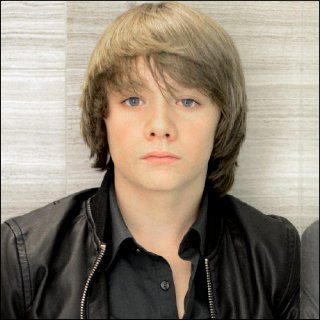 Dakota Goyo
or maybe like this kid, adding the skater cut and a sleek black leather jacket:

(e9yfjo.jpg
http://glamourous-world.blogspot.com/2009/11/best-child-actors.html
)
Captain Perfecto:
Actor John Krasinski has the jaw, chin and smile for it, and the dark wavy hair. But I am picturing big and buff for Captain Perfecto and he is not exactly a body-builder type. Hollywood could probably do that for him.
Truthfully, though, if I stop and think about George being on the screen, I mostly imagine the story animated, in the style of
The Incredibles.
5. What is the one-sentence synopsis of your book?
When George's too-nice-tendencies put him in the Losers-R-Us class at the Academy School of Villainy and Wrongdoing, he decides to do whatever it takes to honor his family's evil villain name, even when it means going up against the strongest, biggest superhero of all time, a superhero who, as it turns out, has a super-big-problem of his own.
6. Will your book be self-published or represented by an agency?
While self-publishing is a great choice for many authors, I truly want an agent. More and more children are reading in Kindles and Nooks, but the adults who buy for them still buy paperbacks. I've been reading agent and editor blogs for several years now and it's clear to me that agents know things about this business that I do not. They amaze me, with all their knowledge and connections (and that's not just a suck-up statement.)
7. How long did it take you to write the first draft of your novel?
I wrote the first 12,000 words in one day. I finished the first draft the second day, but only because the first draft of this manuscript was more like an early reader than a full MG manuscript. I got a critique that suggested I'd have a better chance of placing the novel if I A) expanded the story significantly and B) changed the ending. I did both, and it took me about 4-5 months, I think. I generally work fairly quickly.
I am also doing an online graduate degree program for my master's in library science, so that takes a lot of time, as does taking care of my family, but I still find time to work on my current project, which is YA.
8. What other books would you compare this story to within your genre?
Children who enjoyed but have outgrown ZAC POWERS would like this, as would those who laughed at 101 THINGS TO DO TO BECOME A SUPERHERO...(OR EVIL GENIUS)-- which is a funny guidebook, not a story. Kids who enjoy my manuscript will most likely be the kind of kids who grow up to enjoy ARTEMUS FOWL. There is a sweetness to George that makes him a bit unlike traditional super-villain-focused books or manga.
What is NOT a good comp book is one that sounds remarkably similar, VILLAIN SCHOOL by Stephanie Sanders. In fact, when I read the back cover, I felt like I was going to be ill, since I had already started querying and the log line is so similar. However, after reading the book, I knew that the two were quite different. That world is based on fairy tales and horror tales, including a warlock, the son of the Big Bad Wolf and the daughter of Dracula. It is very much an adventure/mystery book, focused on action, not character. The tone of Ms. Sanders book is for older MG readers, with a snarky tone appropriate for that age group. My manuscript is solely superhero/supervillain and my main character is sweet, a bit clueless, and someone readers root for. Mine has a much tighter focus on the character growth happening even throughout the adventure that he must face.
9. Who or what inspired you to write this book?
It just struck me from out of the blue. I set aside the YA I was writing and worked only on this. I have always loved superheroes and supervillains, though.
10. What else about your book might pique the reader's interest?
An editor who did a critique at the SBCWI conference said it was like, "
The Incredibles
Gone Bad." My story has a lot of fun footnotes that poke fun at the supervillain culture, some of which will make adults laugh as much as the kids, and there are lots of nifty villain devices included.
Additionally, there is a huge interest in superheroes and supervillains in our country, evidenced by the billions sold in Avenger's movie tickets, not to mention all the other movies, games, gadgets and clothing. My story taps into that already-present interest. I personally have loved the world of superheroes and supervillains form the time of my first Marvel comic book subscription to the X-Men when I was in fourth grade.
Excerpt

"Careful with that one," a dry voice said behind him. "It might burn all your hair off and wouldn't that be embarrassing?"

George whirled, holding the ray gun sheepishly behind his back. The man approaching him laughed, an honest laugh that didn't sound at all darkly evil. Good news to his ears. George's eyebrows raised. He stood, mouth gaping.

"All the kids grab that one first. I really should disarm it. Actually…" The man looked thoughtful for a moment. He reached over and pushed a red button on the side of the gun. "I think you should disarm it. As in, right now. In two minutes, it will explode." Then the man gave a charming smile -- George just now realized what a fabulous tool that smile was for such a sneaky villain -- and walked out the door.